Shopping Cart
Your Cart is Empty
There was an error with PayPal
Click here to try again
Thank you for your business!
You should be receiving an order confirmation from Paypal shortly.
Exit Shopping Cart
The Early Ford V-8 Club of America
SA Regional Group 94 Inc.
| | |
| --- | --- |
| Posted on September 14, 2016 at 6:45 AM | |
We met at the usual place for travelling north, the Caltex servo at Bolivar.
Weatherwise it was a rather threatening morning as 14.Ford V-8s and some moderns left for Moonta Bay. Our tour organisers Glenn and Sharon had mapped a direct route to Moonta Bay except for a detour through Virginia to show our cars off to an unknown enthusiast but all we saw was a windblown NBN worker giving us a half hearted wave.
Back on the Highway the heavens opened and down it came, rain, rain, rain, and more rain. We seemed to be travelling the same way as the offending black cloud was, but on arrival at Port Wakefield, it was like we had travelled into another season the weather was fine and quite warm.
On to Moonta Bay and a tour of the Moonta Bay Car Park and then on to the Caravan Park.
The rest of the day was spent in various ways, walks in the immediate area, fellowship and chatter and a few drinks on the side. As the weekend was of "do your own thing" affair some went to the Camp Kitchen for a BBQ dinner while others stayed or shared cabins with others.
Saturday was a lovely bright day so most took to the main street and surrounds of Moonta. Plenty of coffee shops, a wonderful second-hand shop and we agreed what a lovely quiet layback town it was. Having been there many times before with historic cars on the occasion of the Kernewek Lowender and the place was a buzz and one couldn't move in the main street.
The afternoon found us at the old mines site. A number of us rode the tourist train gaining knowledge of Moonta and the mines through a colourful locomotive driver and interpretive guide. A point of interest was that the tourist train is actually the old Adelaide Zoo train that we rode around the Zoo on as kids before Occ Health and Safety and the fun police put a stop to that enjoyable pastime.
We then inspected the Museum which is situated in the old Moonta School, a most substantial building with grand displays of mining days and life gone by in Moonta.
As we left the Museum and Mines precinct we encountered Kevin and Jan and their magnificent 1934 Ford V-8 sedan. It was so good to catch up with Kevin and Jan as we had not done so for a good while. Some light hearted conversation and vehicle inspections followed and we were glad to hear that they were to come with us for the evening meal.
The evening meal was a very nice affair at The Patio and Jeanne celebrated her birthday with a cake.
Sunday was go home time and we had been invited to Kevin and Jan's place for a shed inspection. What a great morning that was with a lovely display of Ford V-8s out front and a look at Kevin's Model T Ford and photographs and an explanation by Kevin of the Custom 1940 Ford V-8 Sports car that he had built back in the 50s.
This was a most interesting piece of work and something that I doubt would be attempted by anyone in the backyard today.
We finally departed, fuelled up and had a nice but uneventful trip home.
Thanks to Glenn and Sharon for the weekend and thanks to all for your good company.
Those who attended were:-
| | |
| --- | --- |
| Graham and Shirley | 1939 Mercury |
| Alan and Colleen | 1939 Ford Sedan |
| Frank and Val | 1957 Ford Customline |
| Wayne and Rene | 1953 Ford Customline |
| Gary and Anne | 1952 Crestline Victoria |
| Graham and Val | 1948 Ford Sedan |
| Ian and Carol | 1935 Ford Phaeton |
| Geoff and Jeanne | 1935 Ford Sedan |
| Steve and Deb | 1937 Ford Coupe |
| Peter and Sue | 1954 Ford Customline |
| Brian and Jo | 1952 Ford Mainline Ute |
| Trevor | 1937 Ford Sedan |
| Simon Jacqui Marcos Casey Jenson | 1947 Ford Sedan |
| Grant and Rosie | Modern |
| Will and Judy | Modern |
| Joe and Beverley | Modern |
| Glenn Sharon Ashlee | An enormous Galaxie Station Wagon |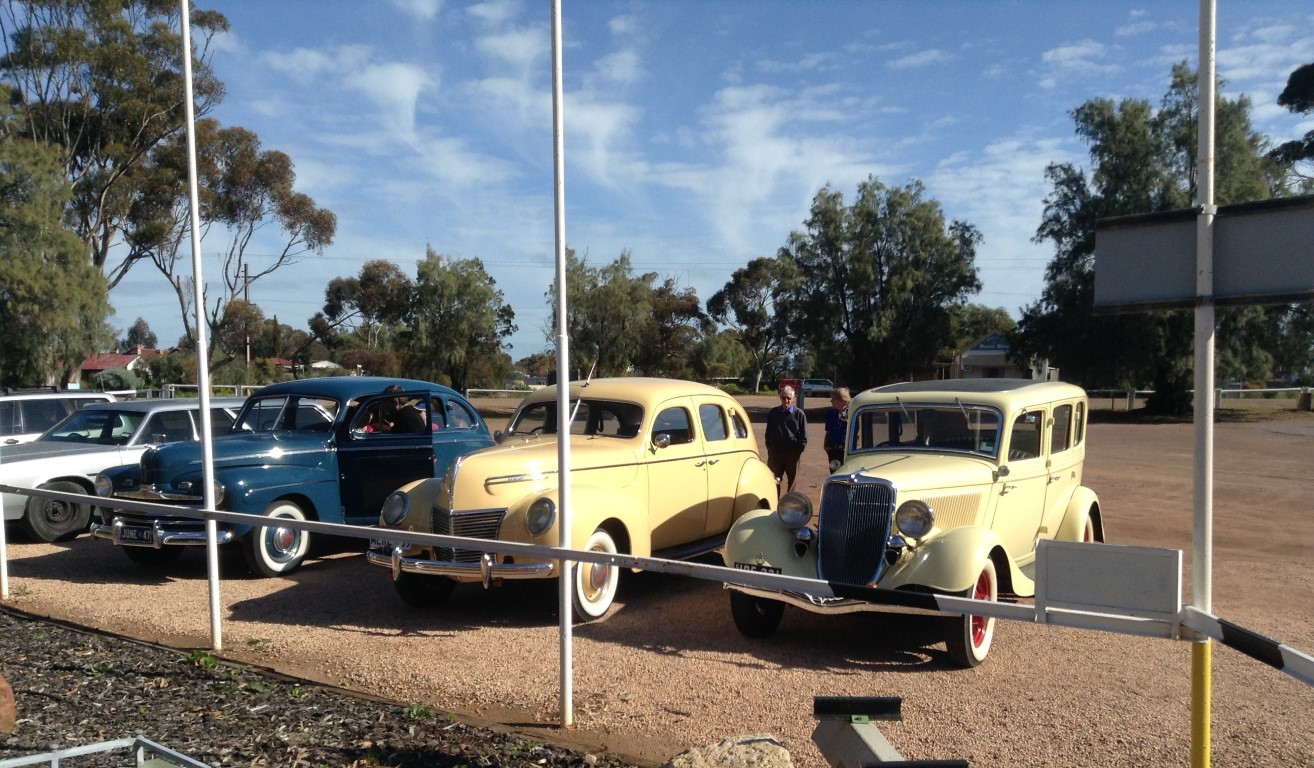 Categories: None
/