Shopping Cart
Your Cart is Empty
There was an error with PayPal
Click here to try again
Thank you for your business!
You should be receiving an order confirmation from Paypal shortly.
Exit Shopping Cart
The Early Ford V-8 Club of America

SA Regional Group 94 Inc.
To see older news and events, click here.

| | |
| --- | --- |
| Posted on October 17, 2021 at 7:00 AM | |
Click here to download the 2020 - Early-2021 reports.
Including:
Arthur Clisby Day
Waikerie on Wheels
Surfari to Victor Harbor
Coffee and Chrome at Gepps Cross
Model A Ford Breakfast Run
Including:
Steam Power in the Adelaide Hills report
Classics On The Park
Cavalcade of Cars Report
Flathead Ford Funday
Annual Run To Lake Bonney
Arthur Clisby Day Report

| | |
| --- | --- |
| Posted on October 9, 2020 at 6:15 AM | |
Click here to download the 2019 - 2020 Events reports.
Including:
A Drive Down South Report
2019Bendigo Swap Meet Bus Trip
The Greyhound & the Jaguar
Yesterday's Power Rally
2020 Annual Run Report
Drive It Day Report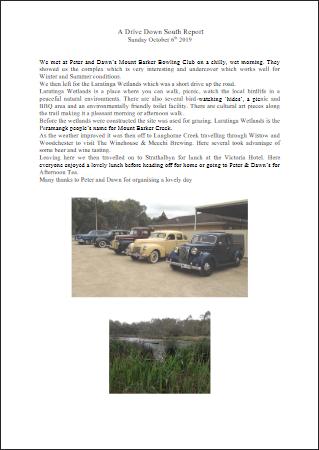 | | |
| --- | --- |
| Posted on October 16, 2019 at 5:25 AM | |
In this Update:
Independence Day Run
Saturday 7th July 2018
Drive It Day
1st September 2018
Upper South East 4 Clubs Tour Bordertown
Sat/Sun 25th & 26th August 2018
2018 Early Ford V-8 Annual Run
Friday 21st September to Sunday 23rd September 2018
2018 Riverland Run
6th to 8th October 2018
Yesterday's Power Rally
Sunday January 20th 2019
Model A Breakfast Run
Sunday February 17 th 2019
The Kernewek Lowender Weekend
2019 Independence Day Lunch
Saturday 6th July
Upper SE Combined Clubs Tour
24th & 25th August 2019
2019 Annual Run
6th to 9th September 2019
Click here to download and view the reports.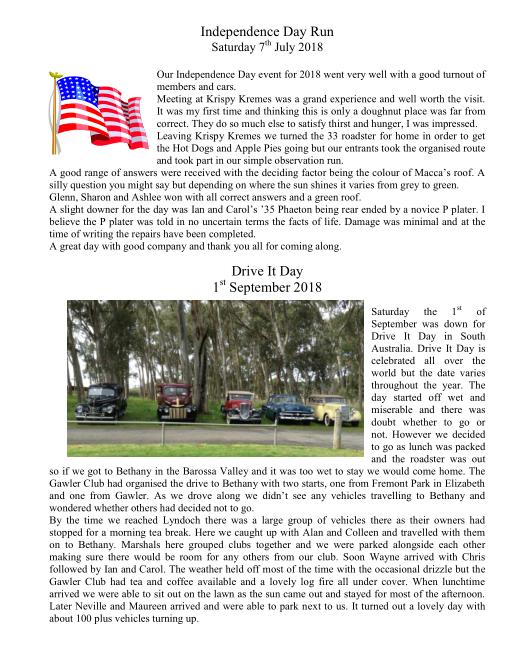 | | |
| --- | --- |
| Posted on September 16, 2018 at 12:25 AM | |
Saturday 7th July 2018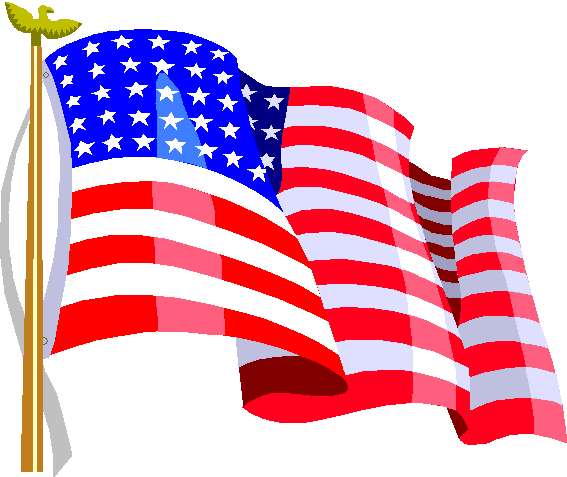 Our Independence Day event for 2018 went very well with a good turnout of members and cars.
Meeting at Krispy Kremes was a grand experience and well worth the visit. It was my first time and thinking this is only a doughnut place was far from correct. They do so much else to satisfy thirst and hunger, I was impressed.
Leaving Krispy Kremes we turned the 33 roadster for home in order to get the Hot Dogs and Apple Pies going but our entrants took the organised route and took part in our simple observation run.
A good range of answers were received with the deciding factor being the colour of Macca's roof. A silly question you might say but depending on where the sun shines it varies from grey to green.
Glenn, Sharon and Ashlee won with all correct answers and a green roof.
A slight downer for the day was Ian and Carol's '35 Phaeton being rear ended by a novice P plater. I believe the P plater was told in no uncertain terms the facts of life. Damage was minimal and at the time of writing the repairs have been completed.
A great day with good company and thank you all for coming along.
| | |
| --- | --- |
| Posted on September 16, 2018 at 12:15 AM | |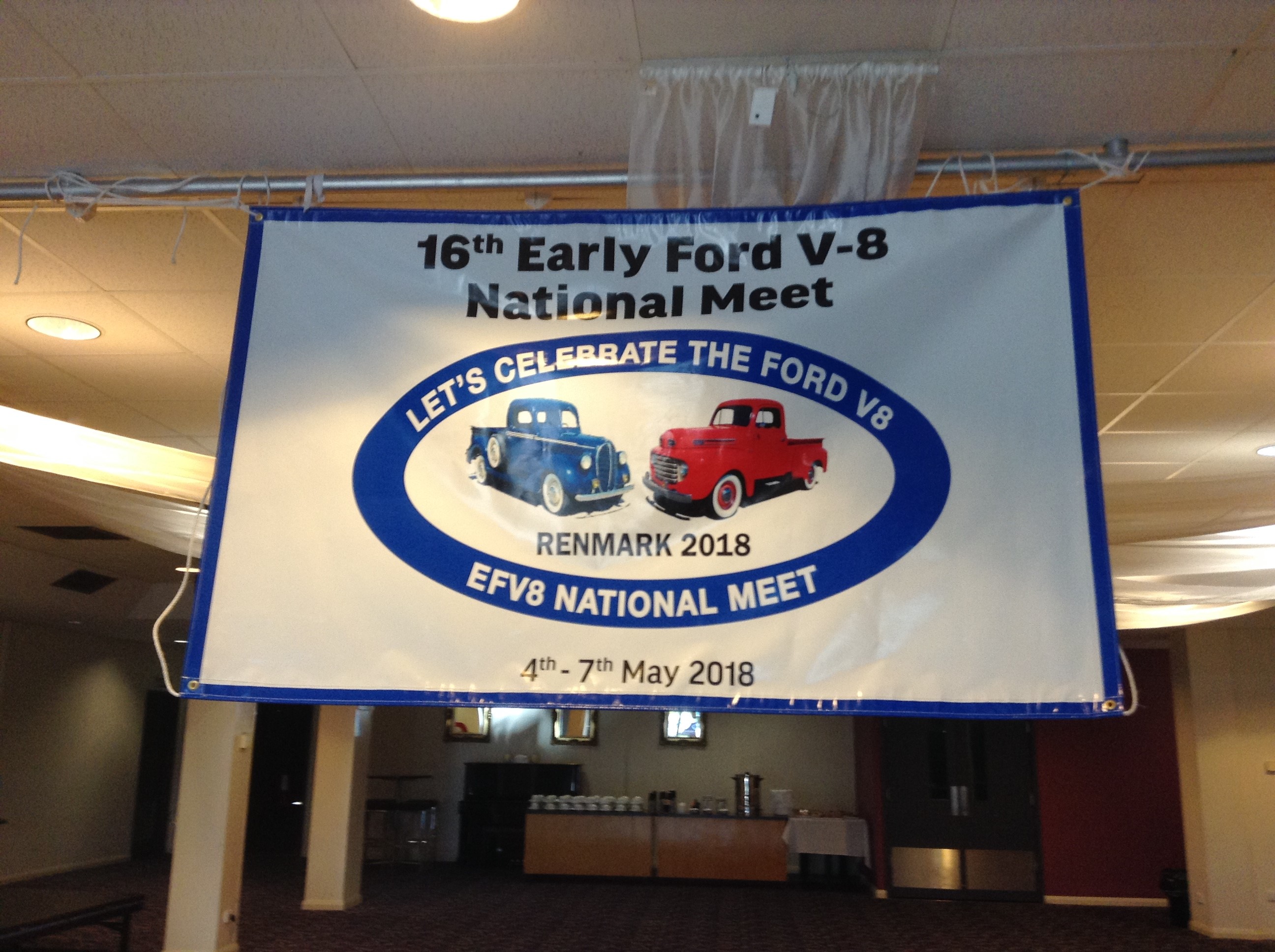 Leaving home at around 8.15 am on the Wednesday prior to the weekend of the National Meet we found it necessary to take 2 vehicles due to the amount of National Meet items required to be transported to Renmark. Our first vehicle was our 1933 Ford V-8 Roadster which was making its first long distance run and as we opted for the fitting of an Australian "dickie seat" or should we say American "rumble seat" not a lot of room exists for luggage. In my next life when I restore a Roadster I will opt for the Australian "boot" or American "trunk" option. However the second vehicle was the modern Subaru Impreza with large boot and folding seats was loaded to the hilt.
Arriving at about 12.30 pm we hooked up with Ian and Carol who also arrived with 2 vehicles because of the amount of requirements needed.
Wednesday afternoon, Thursday and Friday morning was spent attending to the tasks of assembling goody bags, setting up the registration hall and last minute sorting out of venues, bus transport and all that is necessary for the event's success.
Our registration hall looked a treat and V-8ers from all over started to appear around 3.00 pm Friday afternoon. Many volunteers from RG 94 also appeared to ease the burden and the whole registration affair went like clockwork.
An early start on Saturday morning for the judging day, the local council had already closed the road for us and banners were hung from the Renmark Hotel/Motel balcony.
The Concours vehicles were in line along the river side of the road with Rouge and Touring cars on the hotel side. A row of trucks were placed in the middle.
The usual judges' breakfast was held where National Judge McArthur laid down rules for the Meet.
The whole affair looked just great and judging was underway with entrants and the public mingling amongst the vehicles.
The Seidel/Fatchen team surprised all with an interesting display of our beloved sidevalve V-8s. One engine was a Lincoln V-8 fitted with finned alloy heads and dual carburettors mounted on a stand being able to be started and run. All 357 cubic inches of it sounded just great with straight out exhausts. The other was an early pump in head engine with one head removed and running on the four opposing cylinders.
One was able to view the pistons and valves in operation and the workings of the diver's bell distributor with one cap removed. An amazing sight as at idle, pistons and valves are almost a blur. I was rather amazed how smoothly it ran on four cylinders. Many thanks to Mark and Gary for this surprise.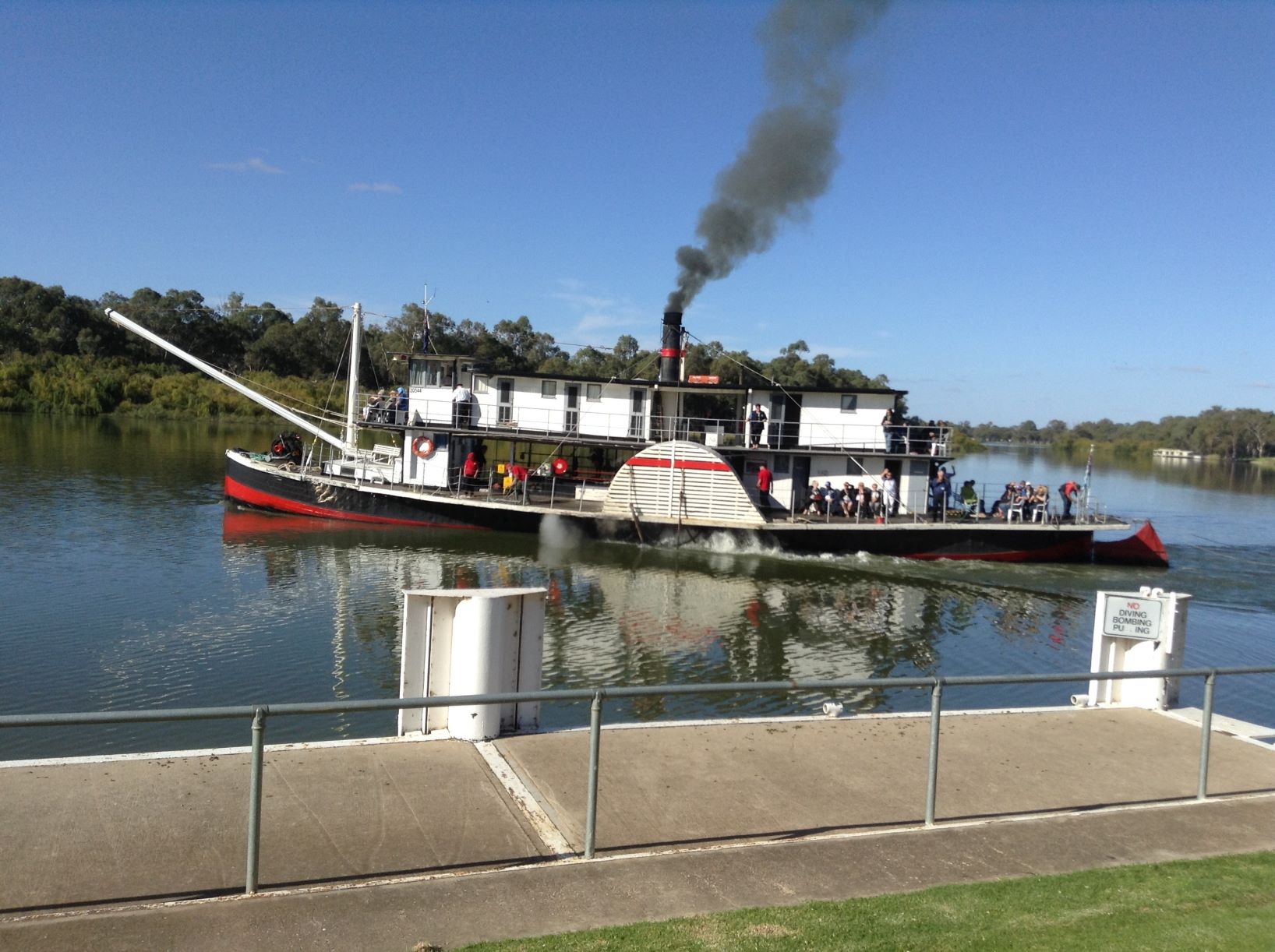 Around 11 am, V-8 ladies boarded a bus to Rushton Roses for lunch then back to the Renmark Wharf for a paddle steamer trip on the PS Industry. This looked great steaming away with a load of people on board.
A free night for all with our Sunday run the next day.
Sunday saw all driving to Berri for a magnificent Morning Tea. We all arrived after some were pointed in the wrong direction by an unknown traffic marshal at a roundabout who quickly disappeared obviously realising there were more of us than him. Here was also a really nice parking area.
On to Loxton which we were warned that many roads were closed due to a pedal prix being held.
We weren't inconvenienced by this as Alan & Colleen had mapped out a route around the Pedal Prix track to our lunch destination at the Loxton Bowling Club. It was a magnificent sight along the road to Loxton to witness a never ending line of Ford V-8s winding through the countryside.
After lunch it was a small trip back to the Pioneer Village for a good look around.
As Sunday night is always the much awaited Presentation Dinner, preparations had to be made at The Renmark Club. This occurred and at about 6.30 pm things were underway. Various speeches and presentations were undertaken and good food and drink was enjoyed.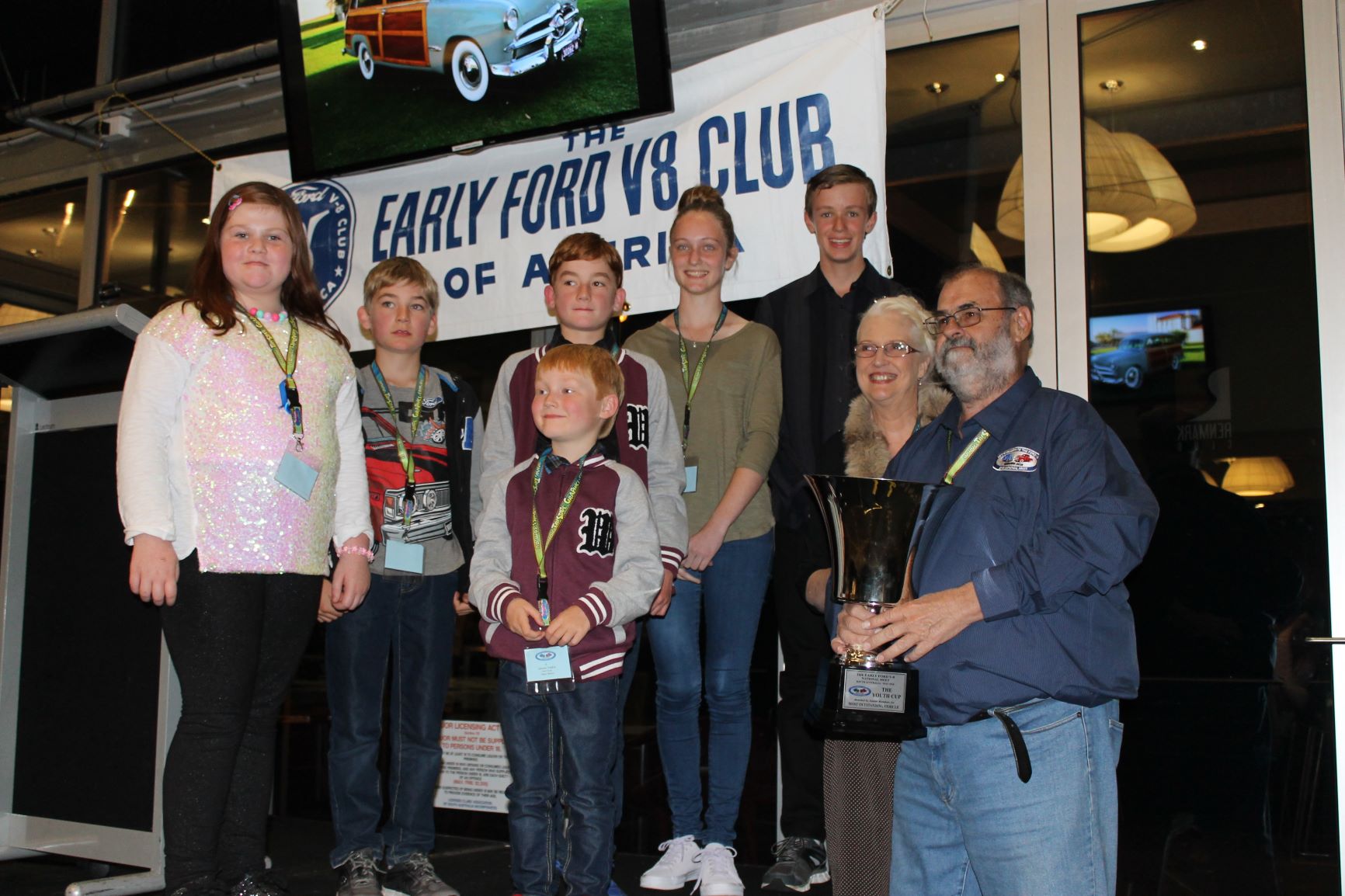 A Youth Cup Award had been organised and six of our younger members aged from 6 to 16 were seconded to judge vehicles via a simple points system. This was handled by Jacqui Tonkin who unfortunately had to leave by bus Sunday afternoon due to work commitments. The winners were Alan & Colleen McDonald with their 1947 Jailbar Light Commercial. The children displayed professionalism and enjoyed what they had achieved. Hopefully it is one small way to encourage the young.
Congratulations to all winners of plaques, trophies, raffle prizes and auction items, it was a great night.
Although we had two days to go, the traditional Farewell Breakfast was held Monday morning.
This was put on by the local car club, The Riverland Vintage & Classic Car Club in a church hall in the local area. Again an excellent breakfast and many thanks to the Riverland people.
The first of our optional two days was a drive to the Cobdogla Pioneer Museum to view the historic displays, the Humphrey Pump and to have rides on the train. This was followed by a light lunch. Things were now more relaxing for us so a pleasant drive back to Renmark and an easy evening with those who were left.
The last day Tuesday saw us at Lock 5 for Morning Tea and as luck would have it a small boat came making use of the Lock facilities for all to see.
We then motored off to Wilkadene and the Woolshed Brewery stopping along the way at a Lookout over the River Murray.
Wilkadene is a lovely picturesque spot and we had a tour of the brewery and s sumptuous lunch. Both morning tea and lunch was provided by the Riverland Anglican Church ladies. Our last night was spent having a meal in the Renmark Hotel with the few that were left.
Wednesday was an uneventful trip home but a great Roadster drive. Our 1933 V-8 Roadster had only minimal miles on the speedo and had only done relatively short trips around Adelaide. It was still in the "hope it's all OK stage" but it performed faultlessly up to and back home and the whole weekend. It has proved itself and we are happy with the outcome. I was rather surprised at the lively performance but considering the weight of the car it's not surprising. It was great to catch up with all the interstate V-8ers and to see some vehicles that we haven't seen before especially our '33 Roadster's little sister, the '33 4-cylinder from Bordertown.
It was so good also to catch up with Betty & Neil from Wellington, New Zealand.
Many thanks to all who came and we hope you all had a good time.
Thank you also to our Regional Group 94 for the volunteers and assistance.
Hopefully we will do it again in two years???
| | |
| --- | --- |
| Posted on September 16, 2018 at 12:10 AM | |
Sunday 8th April 2018
This year's Rock and Roll Rendezvous was again a grand event held at the National Motor Museum in Birdwood with fantastic weather.
The usual great selection of bands were on hand to supply 50s, 60s and 70s music for listening and/or dancing to.
Many stalls for food and drinks plus retro clothing, accessories and memorabilia were on hand also.
Issy Dye who would be remembered by those of our age put on a magnificent show, emulating Johnny O'Keefe, Roy Orbison and others, but his red suit was a bit over the top.
A good display of vehicles mainly from the 50s onwards which I suppose is what it is all about were on show.
These comprised of the completely original and restored to original and slightly modified and highly modified.
Pre-war cars were very thin on the ground, I believe our 1933 Roadster, the Bay's 1935 Phaeton and the Harris' 1937 Sedan to be the only really old cars there.
There were a couple of early Street Rods, but with late engines and running gear I don't consider them old cars.
However there was a terrific display but I would like to see better vehicles winning the best modified and best original prizes.
I do believe that in the near future a cover will have to be erected over the dance floor as some of the country rock and roll venues have done.
If the weather is warm as it was it was damn hot on the dance floor and if rain is about it can get damn slippery.
Again a great day out and it would be nice to see a few more V-8s there.
| | |
| --- | --- |
| Posted on September 16, 2018 at 12:10 AM | |
Sunday 18th March 2018
Although we did not attend breakfast due to being seconded to marshalling and public address duties a small group gathered at Vili's for the morning meal.
The Historic Motor Vehicle Gathering looked a little threatened at first with rain looming and a general lack of attendees but around 10 am, the official start time, the heavens cleared and vehicles of all breeds rolled in.
First and foremost at this event are the Veteran and Vintage vehicles displaying many name plates not seen for a good many years and engineering standards not seen for a good many years also.
Vehicles from the early thirties to the eighties were set up behind the early ones and looked great.
Five Ford V-8s from our club attended – they were Alan & Colleen with the truck, Peter and Dawn with the Pilot, Steve and Deb with the 1937 Coupe, Ian and Carol with the 1936 Phaeton and Shirley and myself in the 1933 Roadster.
Unfortunately due to the circumstances of the day we couldn't park the roadster with the other V-8s however that was of no consequence.
A raffle was held with some lovely prizes donated by Penrite Oils which helps pay for the day.
This is a relaxing day with much to see if you have the old car affliction.
The oldest car on show was 1906. This is one show that costs absolutely nothing, no entry fee and no charge for the general public who can park free within the grounds.
Let's see a few more V-8ers along next year.
| | |
| --- | --- |
| Posted on September 16, 2018 at 12:05 AM | |
The usual early start for the Model A Club Breakfast Run gave us a chance to try out our new LED headlamps on the 1933 Roadster and they were excellent.
However we arrived at the Triple C Clubrooms around 7.15 am and after some light hearted discussion with others we left for the mandatory observation run which took us around the local area – down to Brighton Road and through the back blocks of Morphettville and back to Clark Avenue.
We sat at the breakfast table with others of our kind being Peter & Dawn, Brian & Jo and Wayne and Rene.
Simon, Jacqui and boys turned up but whether they were on behalf of the Early Ford V-8 Club or the Model A Ford Club was a mystery.
It was suggested that because they were in the Anglia perhaps they represented the Ford 8 & 10s.
A lovely breakfast as usual finishing with pancakes and the announcement of the observation run winners and raffle winner.
A great morning and again thank you to the Model A Ford Club for this usual great event.
- Graham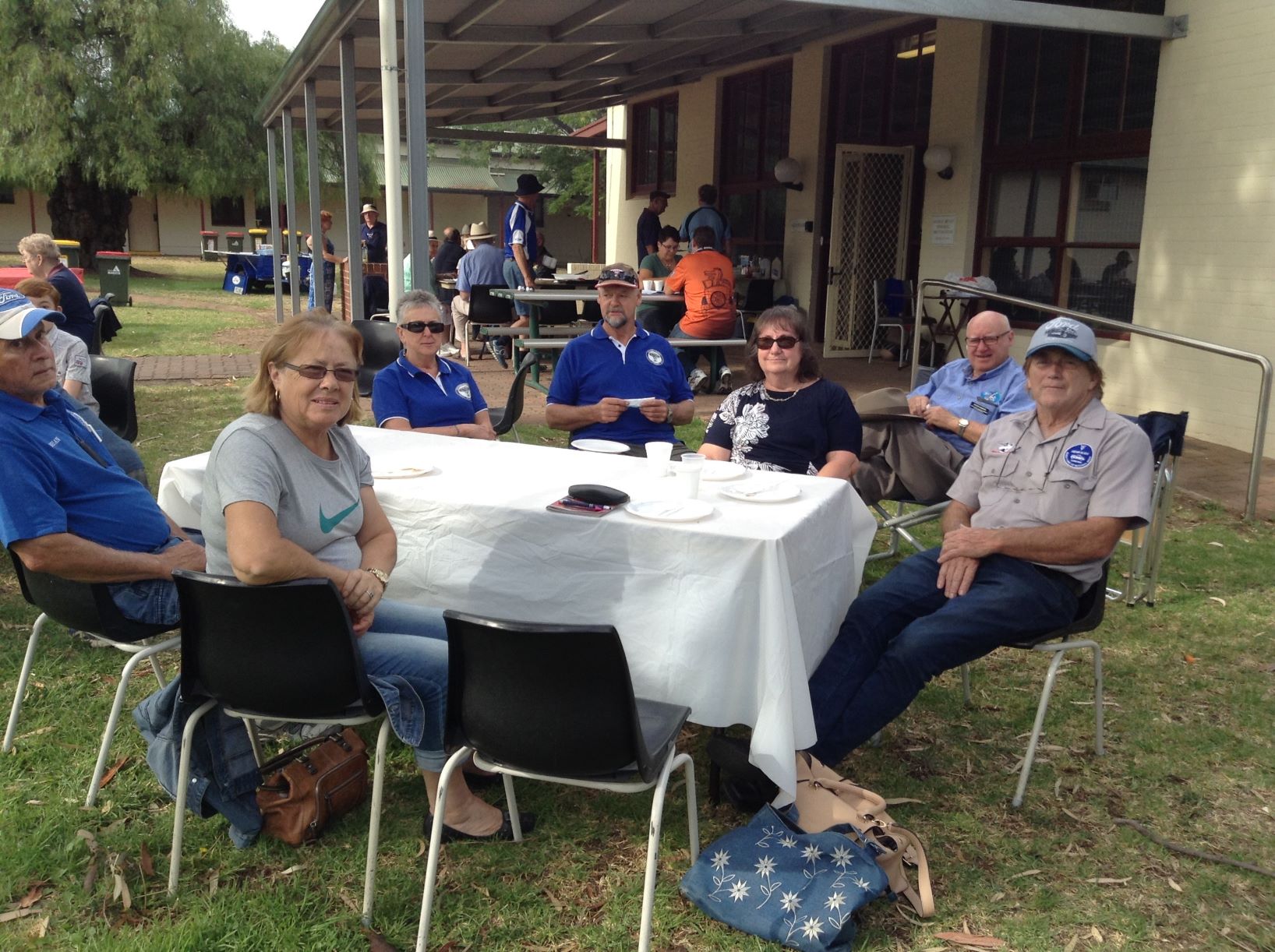 | | |
| --- | --- |
| Posted on September 15, 2018 at 8:05 PM | |
Milang 2018
Sunday 21st January was supposed to be the slight cool change after temperatures of 42 plus degrees but at 35° it was still damn hot.
We and 6 others had registered for the Milang event so to make it comfortable for Shirley, myself and the 1939 Mercury we opted for a run through the hills to Milang rather than freeways and hot, main, traffic light infested thoroughfares.
As at Para Hills West we are at the opposite end of the world to Milang we left home at 6.30 am our route taking us through Tea Tree Gully, Inglewood around Chain of Ponds to Cudlee Creek, Lobethal, Woodside, Oakbank, Hahndorf, Mt Barker, Wistow, Strathalbyn and Milang. This is a lovely drive in an old car and at 1 hour 45 mins I thought a good time as well.
Milang Oval was alive with all sorts of historical stuff and we parked across the oval erecting the club's marquee and we enjoyed the shade and good company.
There is much to see at the Milang Yesterday's Power Rally. A grand display of stationary engines of all types, there were so many it was quite overwhelming. The standard of restoration on those that required restoration was just magnificent.
One amazing fact was that many were totally original just being pulled from sheds and barns and just "got going". There were tractors, tractors and tractors, restored, unrestored, big and small, plus a good range of crawlers.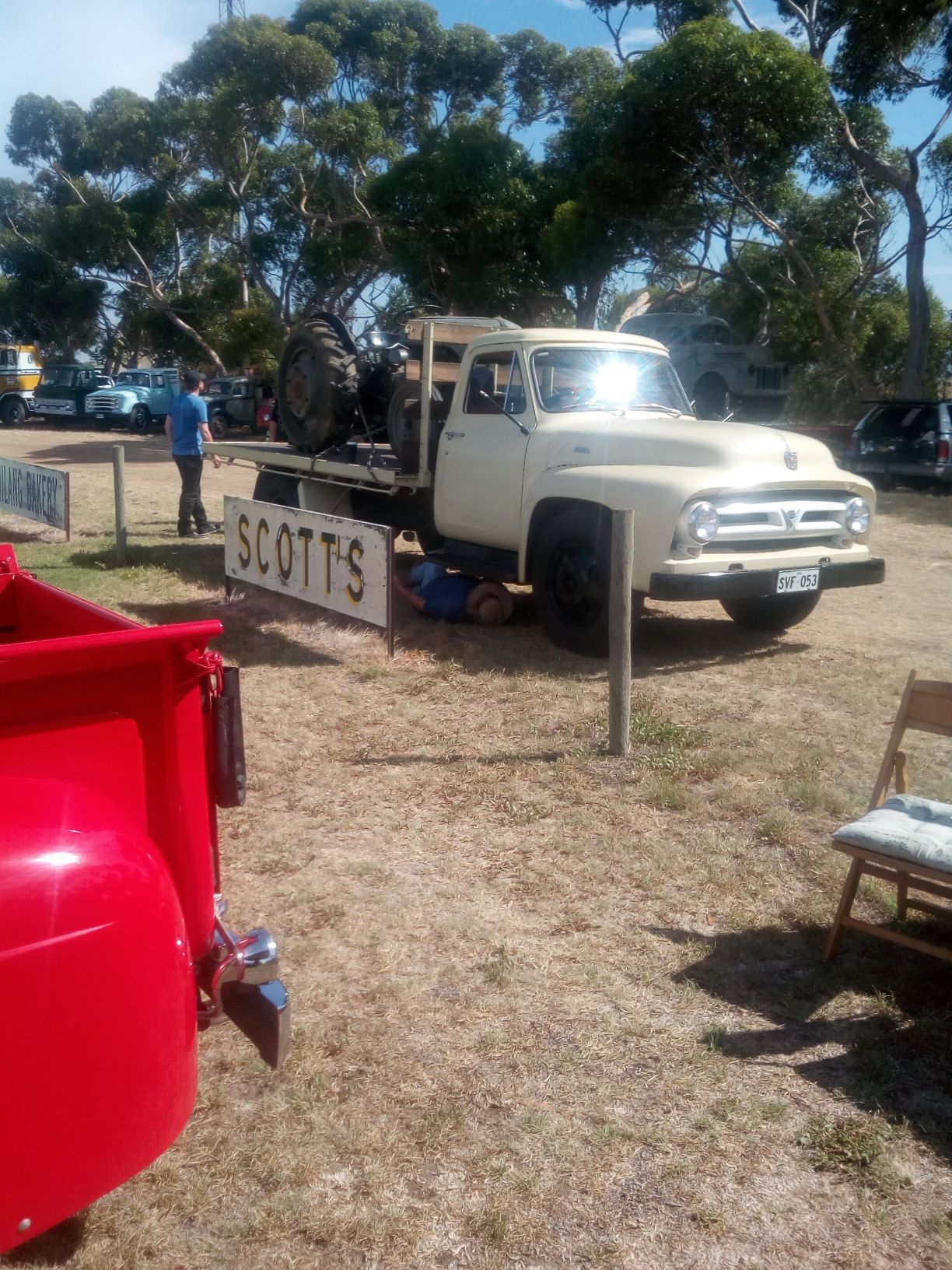 There were trucks of all ages large and small and the display of cars from 1915 to 1981 was most interesting.
To top it off a tractor pull was held lasting most of the day. Having not witnessed this spectacle before I found it very interesting indeed.
As well as all that a shuttle bus was available for those wishing to look at the Museum at the old Milang railway station or go for a lake cruise on the Oscar W.
As the Mercury has been on the road for 20 years now I was surprised that it won its class amongst some very beautiful cars of more recent restoration. Mark Seidel's truck with Gary's Fordson tractor on its back also won the category of Club Display Trucks.
An enjoyable trip via the same route home arriving about 5.45 pm.
A great day and thanks to all those involved.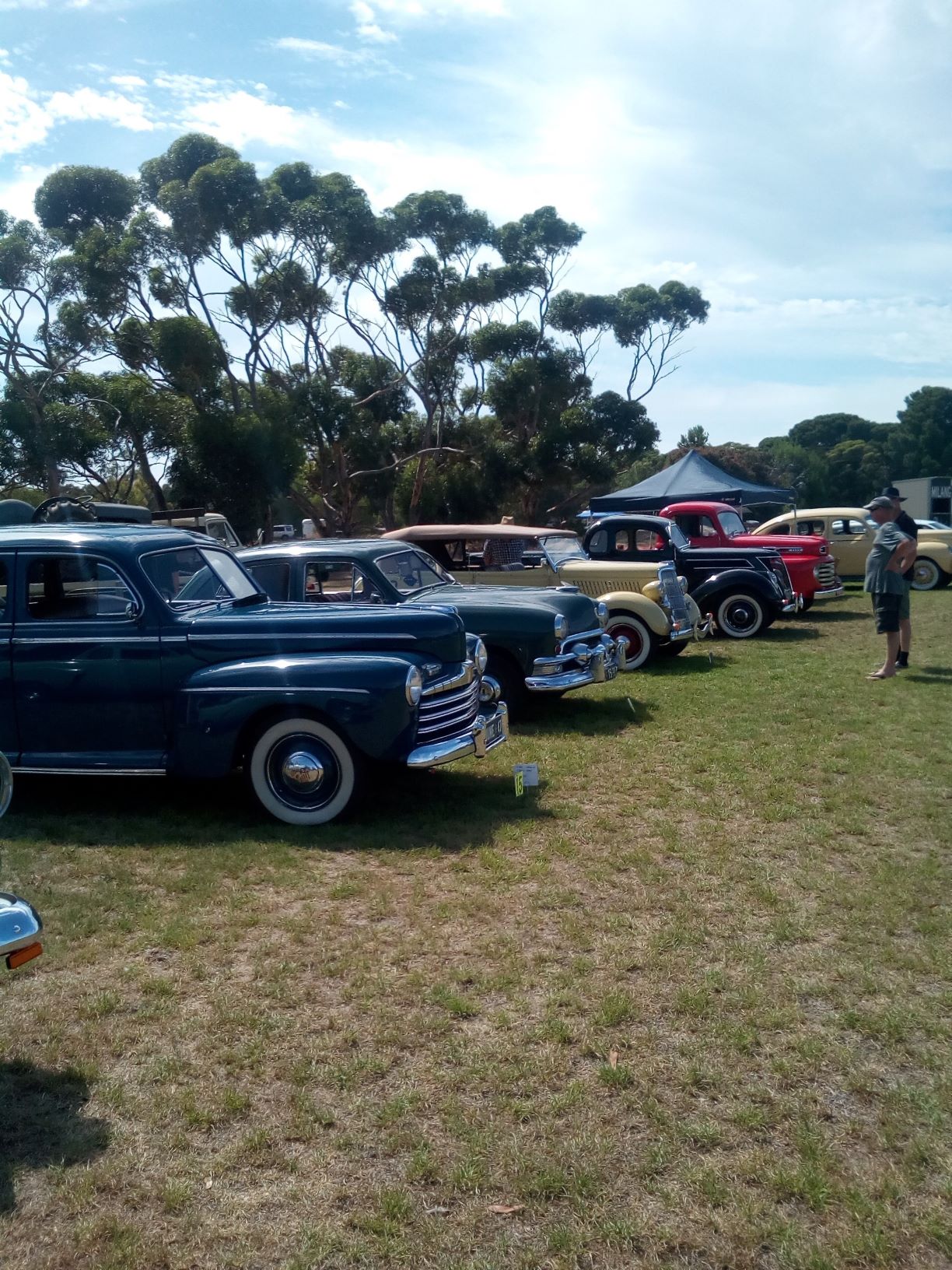 What you can find under the bonnet of a Model A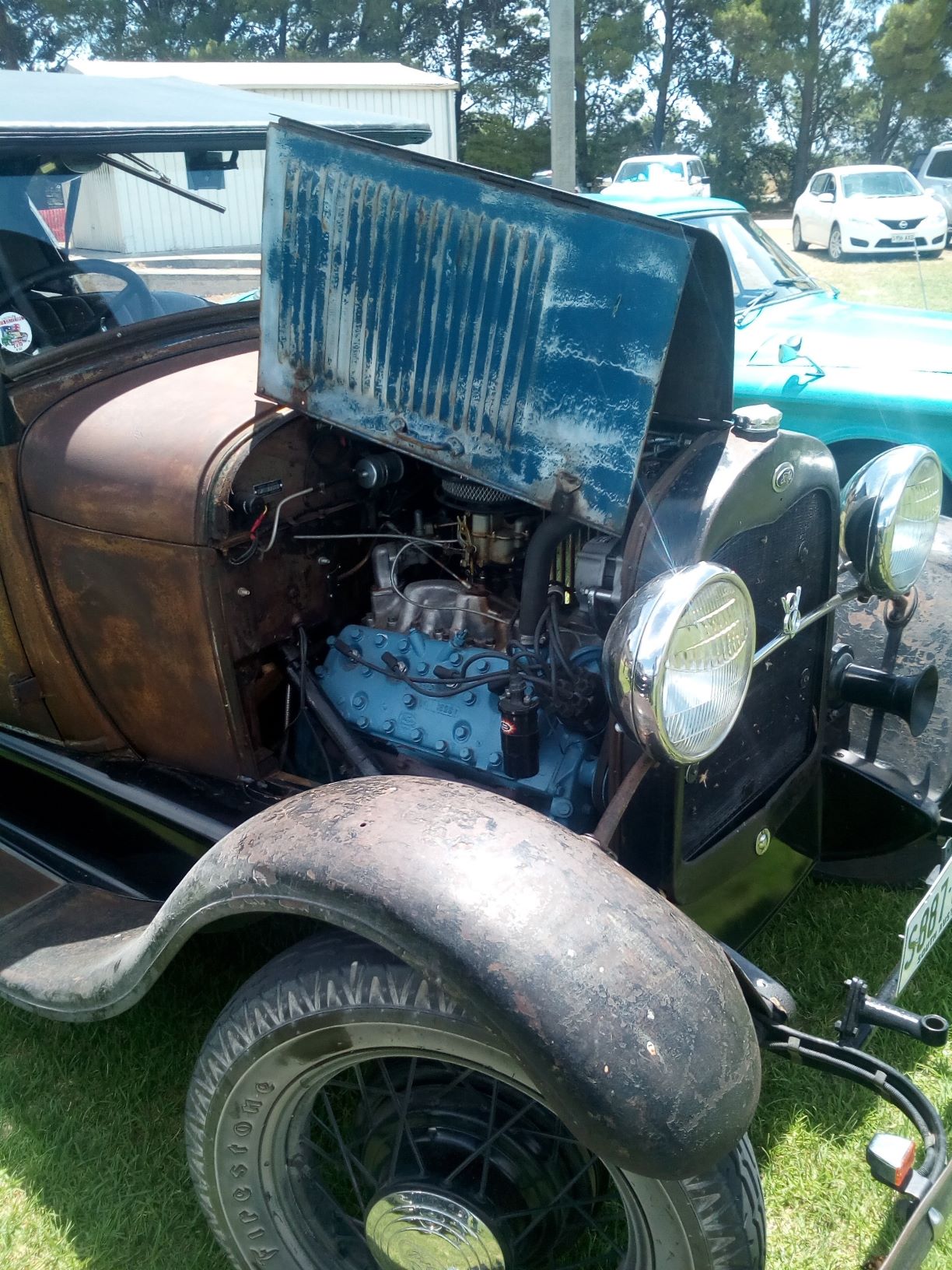 | | |
| --- | --- |
| Posted on September 15, 2018 at 8:00 PM | |
Saturday 2nd December 2017
A small group met at the Tea Tree Gully Hotel Car Park from 9.30 am for a 10.00 am start on a very cool day, all rugged up.
Frank and Val sent us off and we travelled to the Kersbrook Hill Wine & Cider Winery. Here we had tea, coffee and a lovely muffin which warmed everyone up.
Then we had a tour through the winery which was very interesting.
We never got to the cherry farm as the tour was so interesting with many questions asked and answered that we left the winery and headed on to Frank and Val's home for a BBQ lunch.
The sun finally came out during the afternoon but a great time was had by all. The boys received a Ford cap and the girls received a special Christmas cracker with a lovely Christmas mat inside the cracker and Graham gave Frank and Val some thank you gifts.
Around 5.30 pm everyone left for home after a great relaxing afternoon.
Thank you for a lovely run Frank and Val and they have already decided to do the run again next year when they have decided where to go!
/